Zoë Knights and Bodhi Project: "And 10 times more"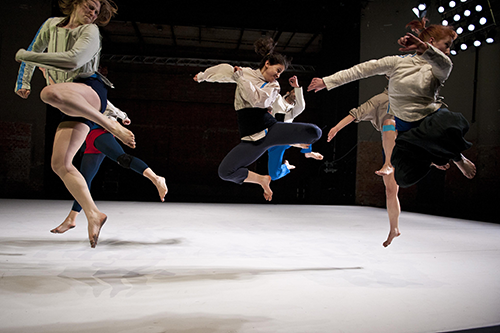 "And 10 times more" is a group work for 6 dancers which deals with the abstracted movements of sport. It isolates movements of team athletes and sculpts them into cascades of choreographic form. The Premiere removes such elements as competition and arena, in order to observe physical prowess outside the context of sport, as a dance of bodies dependent on and created through a group dynamic. Displacement of the interplay of unresolved gestures considers; From which angles do we view movement and in which contexts? The choreographic process may be combined with a process of documentation, acknowledging one's perspective, as a live spectator, on physical image and form recorded, and thus distorted, by media and human perception.
Artists
Choreography: Zoë Knights
Dancers (Bodhi Project): Andrea Bartók, Iris de Hertogh, Plotinos Eliadis, Shai Faran, Sara Marin, Coralie Meinguet
Light design: Wolfgang Weissgerber
Sound: Boris Hauf
Set design: Zoë Knights
Costume: Eva Musil
Soccer coaching: Red Bull Akademie Salzburg - Heimo Kump
Rehearsal Director: Maja Poturovic
Video: Zoltan Molnar

Performances to Date
29 March 2011, Szene Salzburg/Republic, Austria
16 April 2011, ARGE Salzburg, Austria
26 May 2011, The Place London, UK
8 June 2011 Outnow! Festival, Schwankhalle, Bremen, Germany
16 June 2011, CNDC Angers, France
12 July 2011 SEAD Salzburg, Austria

Duration: 45 minutes

Supported by: Stadt Salzburg Kultur, Land Salzburg Kultur
Video
Part 1: http://www.youtube.com/watch?v=oaqf68Ng9nc&feature=related
Part 2: http://www.youtube.com/watch?v=V8vcyJeNcnQ&feature=related
Part 3: http://www.youtube.com/watch?v=WzpZHg6L_g0&feature=related
Online Video Interview: http://www.youtube.com/watch?v=XZJGGWoHemM


And 10 times more from Zoe Knights on Vimeo.