Zoë Knights & Anna Müller: "Untitled until the Performance"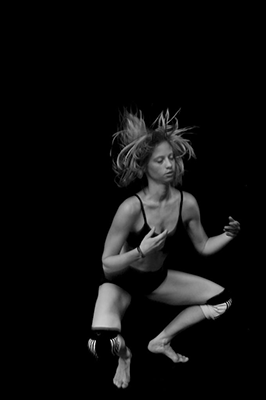 Die gebürtige Australierin Zoë Knights entwickelt zusammen mit der Salzburger Tänzerin Anna Maria Müller das Solo "Untitled until the performance", das den Begriff der Dauer und dessen Verhältnis zur Einsicht behandelt. "Untitled until the performance" ist meditativ, aufgeladen und überaus körperlich. Der choreographische Inhalt dieses Stückes ist ein Resultat der Behandlung folgender Gedanken: Wenn Nanosekunde zu Nanosekunde unsere Körper sich kontinuierlich entwickeln, wie kann jemand durch kinestäthische Erfahrung eine Parallele zu dieser molekularen Nanoentwicklung unseres Organismus in bestimmten Stoffen finden?
Artists
Performance: Anna Maria Müller
Konzept/Choreografie: Zoë Knights
Licht Deisgn: Koen Moerman and Zoë Knights
Sound: Pol Isaac
Set Design: Zoë Knights

Dank an: Wolfgang Weissgerber (Licht), Gerhard Klocker (Video), Michael Riegler (Kamera), Ellinor Ljungkvist (rehearsal assistance), Eva Musil, Kate Mattingly, Michael Stolhofer/szene salzburg, Elfi Eberhard, Claudia Heu, Georg Hobmeier, Angela Müller, Julia Schwarzbach.
Performances to Date
15 October 2008, Toihaus Salzburg

Duration: 30 minutes

Supported by: BMUKK, Land Salzburg Kultur, Stadt Salzburg Kultur, Tanz House Salzburg